All eyes will be on some of the largest global tech companies, each of which is scheduled to report earnings this coming week. These reports could make or break the market which is struggling to find a direction amid accelerating COVID-19 cases worldwide and escalating US-China tensions.
For the second quarter, earnings for S&P 500 companies are expected to fall by 40.3%, based on corporate results already reported and estimates, according to Refinifiv's I/B/E/S. Technology earnings are anticipated to have one of the smallest profit declines, at just 4.4% on average.
The NASDAQ, which had rallied to record highs this summer, ended lower for a second week, falling 0.9%, finishing trade on Friday at 10,363. However, the tech-heavy index is still up 15.5% for the year so far. The S&P 500 finished the week down 0.3%, its first negative week in four. The S&P is down a half percent year-to-date.
In a week packed with earnings announcements, these three names are perhaps the most important for investors to monitor:
1. Amazon
Online retail juggernaut Amazon (NASDAQ:AMZN) is scheduled to report second quarter 2020 earnings after the market closes on Thursday, July 30.
The consensus agrees that the world's second-most valuable company by market cap will again crush expectations based on its strong earnings momentum. Sales are likely to rise 28% to $81.09 billion from the same period a year ago, producing per share profit of $1.38.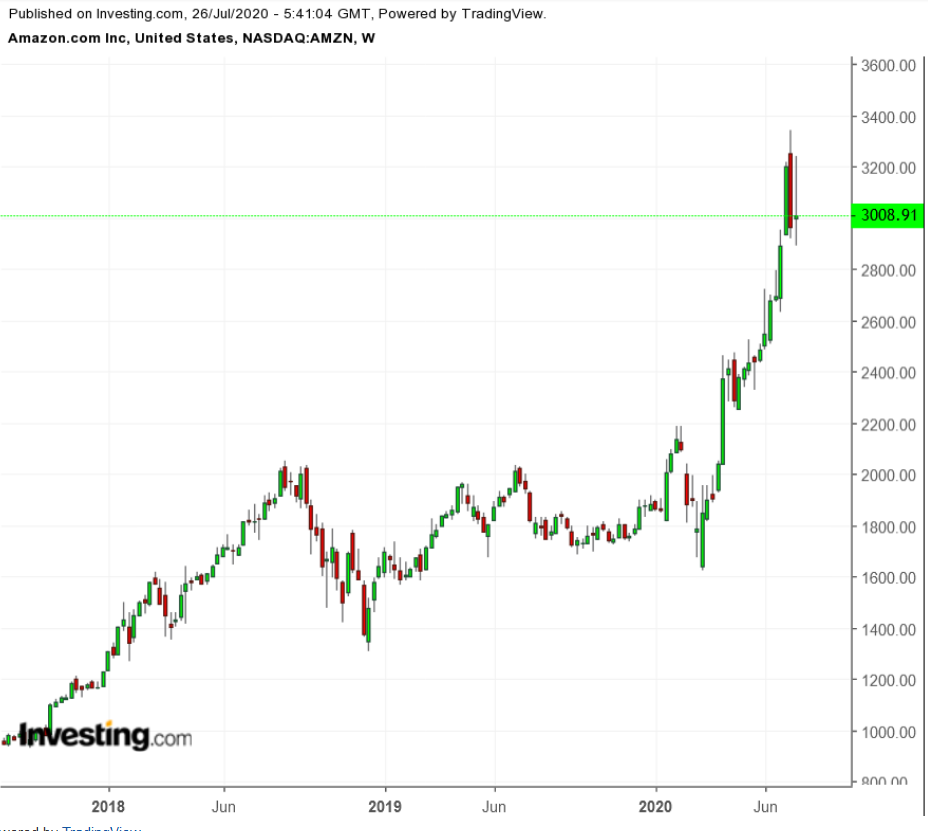 AMZN Weekly 2017-2020
This sentiment is very much reflected in the company's share price, which surged 62% this year, benefiting from the shift to online shopping during the COVID-19 pandemic. The stock closed on Friday at $3,008.91.
Any share weakness on a negative surprise should provide an ideal buying opportunity. Amazon continues to be an amazing business. The company is spending aggressively in new growth areas, such as cloud computing. Its digital advertising business, another high-margin venture, is expanding at a triple-digit rate.
2. Alphabet
Alphabet (NASDAQ:GOOGL), Google's parent company, will also be reporting Q2 earnings on Thursday, after the market close. On average, expectations are for EPS of $8.04 on revenue of $37.3 billion.
Shares of Google have underperformed this year, on concerns that the recession triggered by the coronavirus will force companies to cut digital ad spending, hurting this internet content and information behemoth.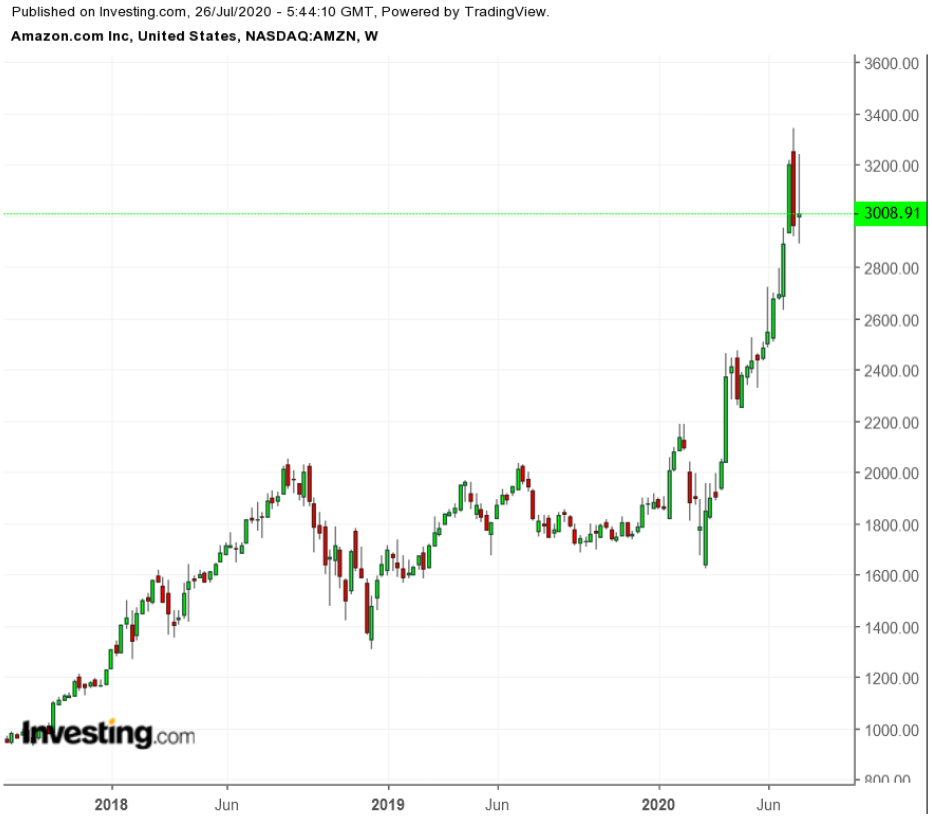 GOOGL Weekly 2017-2020
The stock closed on Friday at $1,508.21, up 13% for the year, after rising more than 30% in 2019.
The world's largest internet company has been trying to diversify away from search advertising for years by investing heavily in cloud services, digital video, consumer hardware and riskier long-term bets such as driverless cars.
In April, first quarter earnings showed progress in several of these areas, even as Google's main ad business suffered from virus-fueled cuts in marketing spending during March.
3. Apple
Apple (NASDAQ:AAPL), the maker of popular iPhones as well as computers and smart wearables, is yet another tech giant reporting earnings on Thursday after the market close.
Analysts, on average, expect the company to report Q3 2020 EPS of $2.02 a share profit on sales of $51.77 billion.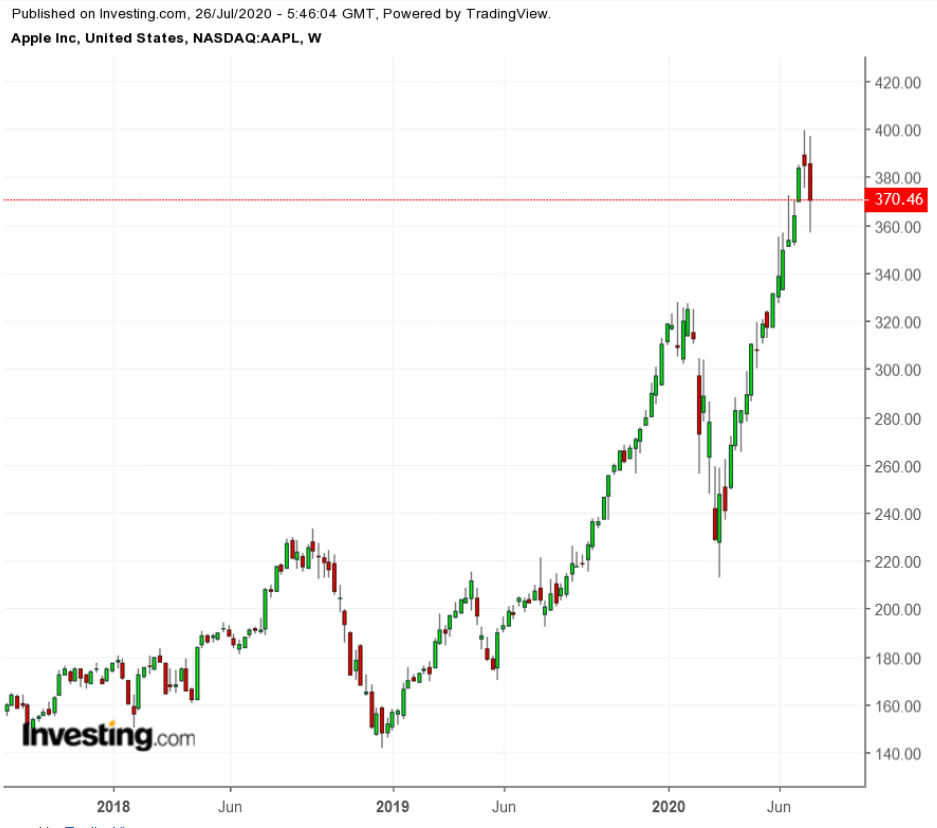 AAPL Weekly 2017-2020
The outbreak of, and response to, COVID-19 has raised several challenges for Apple, including disruption of its China-based supply chain for manufacturing and store closures in many parts of the world. But Apple's stock has defied these challenges, rising 26% this year and 60% off the March low. Shares fell 0.25% on Friday to close at $370.46.
The company's massive innovation ecosystem and its huge cash hoard are some of the things keeping investors attracted and hopeful about the Cupertino, CA-based tech behemoth's future. Apple currently has about $207 billion in cash on hand with about $108 billion in both short-term and long-term debt.