Reports Q2 2020 results on Wednesday, July 22, after the market closes
Revenue Expectation: $5.15 billion
EPS Expectation: $-0.14
When Tesla (NASDAQ:TSLA) reports its quarterly numbers later today, the electric carmaker will have little room to disappoint. For investors, it's a foregone conclusion that CEO Elon Musk will pull off another profitable quarter.
17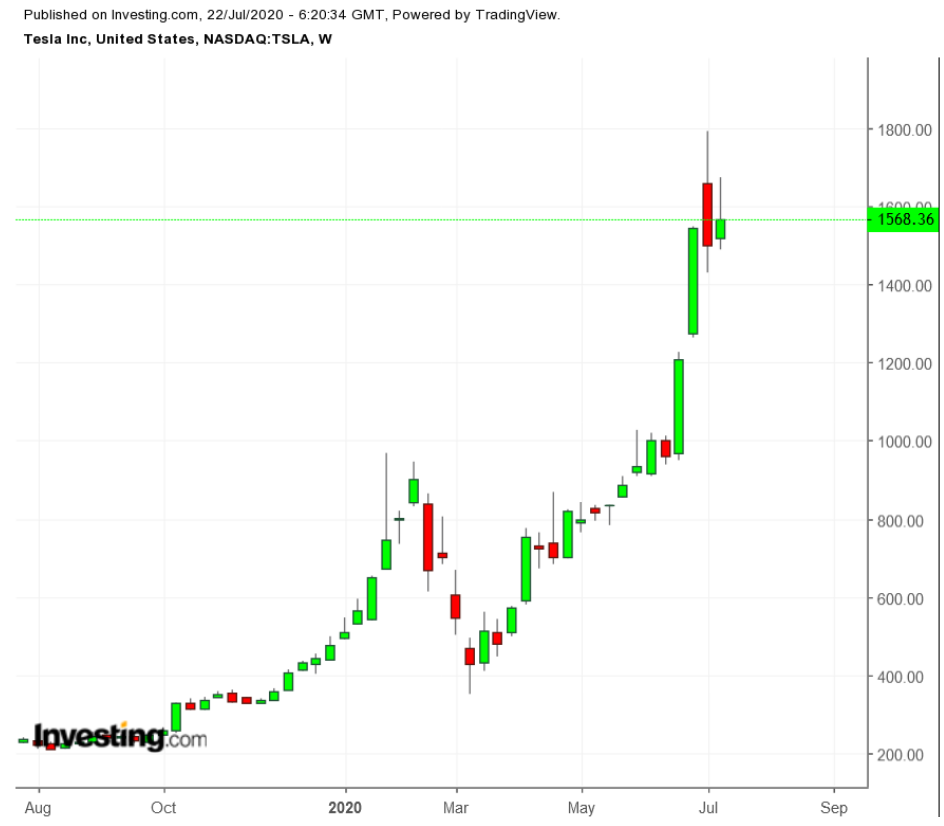 TSLA Weekly TTM
These expectations, which sent Tesla shares soaring this year, have been fueled by a remarkable turnaround for the Palo Alto, California-based automaker. The most significant factor contributing this enthusiasm? Shareholders are beginning to believe that Musk's goal of selling electric cars for more than they cost is becoming attainable.
A recent email to employees from the CEO indicated that Tesla could be on the cusp of producing a possible break-even quarter, during a period when, for much of the spring, Tesla's main California plant was shut by the pandemic.
Adding additional power to its stock's incredible momentum was the company's quarterly sales data, released early this month, that showed Tesla delivered 90,650 cars to customers in the three months ended in June, exceeding analysts' average estimate for about 83,000.
All these positive developments have contributed to Tesla's astounding run this year. Its stock hit a record high of $1,794.99 on July 13, producing a more than 500% return in the past 12 months and making it the world's most highly valued carmaker. Tesla shares closed yesterday at $1,568.36. The stock now trades at 182 times estimated 12-month earnings, versus 10 times for General Motors (NYSE:GM).
According to Barclays analyst Brian Johnson, Tesla is likely to eke out a profit for the second quarter, backstopped by the money the company makes from selling regulatory tax credits. Those credits helped the company turn a $16 million profit in the first quarter, when analysts expected a loss.
The consensus estimate for Q2 is, nevertheless, for a quarterly loss of $0.14 a share, but that number has narrowed in recent weeks and would represent a sharp year-over-year improvement, according to FactSet data. Revenue in the quarter is expected to fall 19% to $5.15 billion.
Another important detail which, in our view, will have a greater impact on Tesla's future performance is the company's forecast for car deliveries during the second half of this year.
Tesla cut prices for its cars during the second quarter, followed by a recent price drop for its Model Y, signaling that the company continues to face weak demand during the pandemic.
That environment, if it lingers, will make Musk's goal of increasing deliveries by more than 36% this year more challenging. In April, Tesla didn't confirm its earlier forecast for car deliveries, saying it would give an update with second quarter results.
Bottom Line
After a breathtaking rally this year, in our view, Tesla shares are susceptible to any small negative surprise.
Tesla's valuation remains impossible to justify by any standard metrics, and clearly shows the herd mentality in play by both retail and institutional investors. There's no doubt that this strategy has produced huge rewards, but it's prudent to now roll back some risk and enjoy the gains.