Global markets drop as Sino-US tension rise
Gold and Silver jump
Yields dip
Key Events
US futures for the S&P 500, Dow Jones, NASDAQ and Russell 2000 all slumped on Wednesday, and European stocks dropped after the Trump administration abruptly ordered the closure of China's consulate in Houston, Texas late Tuesday, accelerating tensions between the world's two larges economies. As well, markets have been reacting to the US President's remarks yesterday that the coronavirus outbreak "will get worse before it gets better."
The dollar fluctuated after a selloff, pushing gold and silver frenetically higher. Oil retreated after a rally.
Global Financial Affairs
Contracts on the major US indices gave up early gains, as risk-on sentiment dissipated, after President Donald Trump adopted a more dire tone regarding the seriousness of the COVID-19 pandemic during a briefing yesterday. Adding to the negative mood: the US Center for Disease Control published a report that the number of cases across the US is much higher than officially reported, due to a lack of robust testing, along with data-collection issues.
This morning's consulate closure comes after the US accused the Asian nation of attempting to steal coronavirus vaccine research. A spokesman for China's Foreign Ministry described the action as, "a political provocation unilaterally launched by the US." He added, "China urges the U.S. to immediately rescind its erroneous decision, otherwise China will undertake legitimate and necessary responses."
From a technical perspective, if S&P 500 futures fall a bit more, they'll provide a bearish confirmation to yesterday's shooting star.
Following yesterday's contradictory market narratives, the STOXX Europe 600 Index was pulled lower by defensive equities, which should outperform in a risk-off environment. Today's selloff comes just one day after investors drove the benchmark to its highest point since early March.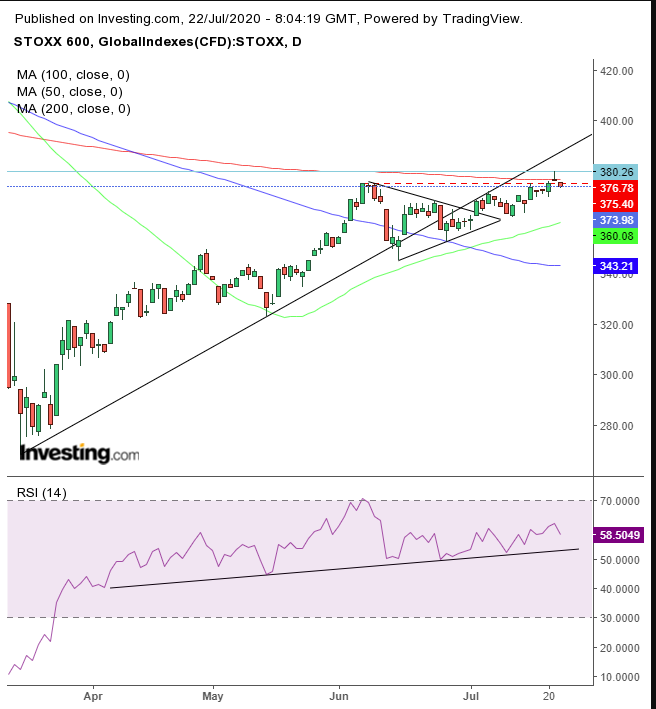 STOXX 600 Daily
The pan-European index opened lower on Wednesday, creating a falling gap, reversing the bullish expectations of yesterday's rising gap. This completed a shooting evening star, or Island Reversal.
Three factors make this pattern especially hazardous: (1) the shooting star closed precisely below the 200 DMA, after a significant rally above it, (2) resistance by the broken uptrend line since the March low and (3) the June 5 high (red dotted line) proved an unassailable pocket of supply. At this point, we expect the dip to be only temporary, after the index completed a bullish pennant. If, however, the pennant fails to support the price, the RSI suggests momentum is on the cusp of a H&S top.
Asian indices finished in the red with one exception. After a brief period during which it lagged, China's markets returned to defying global trends; the Shanghai Composite climbed for the fourth day in a row, adding 0.4% today. Beijing's capital market reforms offset rising US-China tensions.
At the opposite end of the spectrum, Hong Kong's Hang Seng underperformed, losing 2% as local COVID infections hit a daily record.
Tuesday on Wall Street, American shares squeezed out a third day of gains. Nevertheless, indices finished well off session highs as Congress and the White House were visibly at odds over the latest pandemic aid bill. As well, Senate Majority Leader Mitch McConnell cast doubt on the legislative body's ability to an accord before current benefits expire at the end of July.
The S&P 500 Index rallied. Energy and Financials each reached new four-month highs, and the NASDAQ Composite notched another all-time high intraday, before closing lower, as tech stocks led declines just a day after their biggest rally since April.
Yields, including for the 10-year Treasury, fell for the third straight day, to the lowest level since April 21–exactly the opposite of US equities, which have returned to pre-coronavirus levels.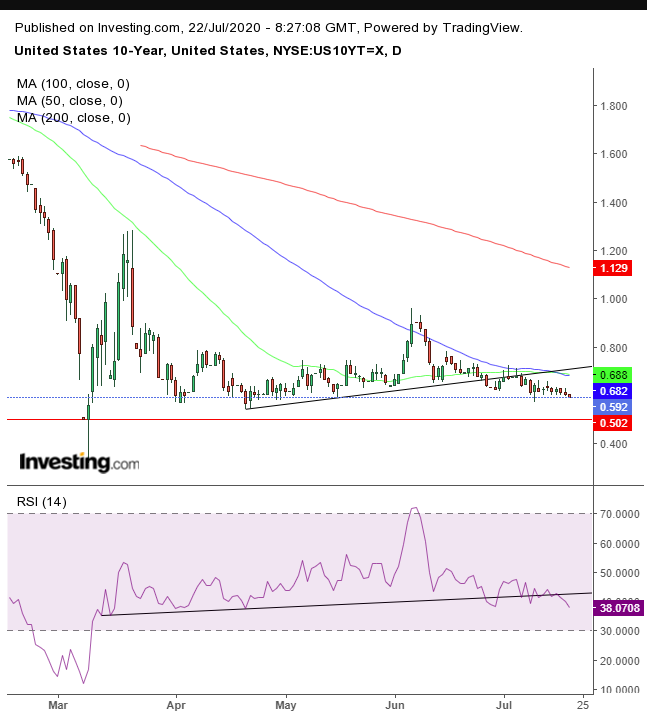 UST 10Y Daily
The RSI confirms the rate's inability to trend higher. It's likely to retest the 0.5% record low.
Falling yields pressured the dollar and the euro extended its uptrend after closing above its Mar. 9 high.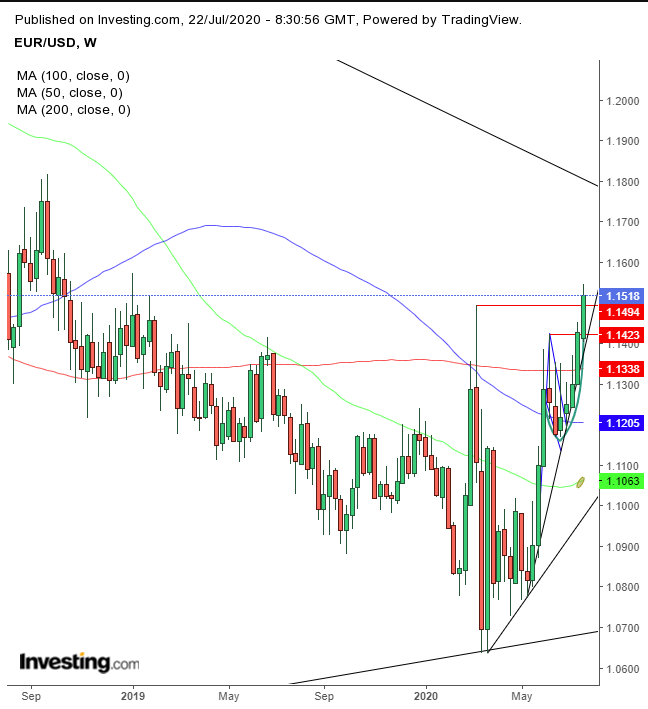 EUR/USD Weekly
The next test for the single currency is the falling trend line in place since 2008, at 1.17, as per the current angle.
Gold rose to the highest point since September 2011. It's now just 1.2% from its $1920 record.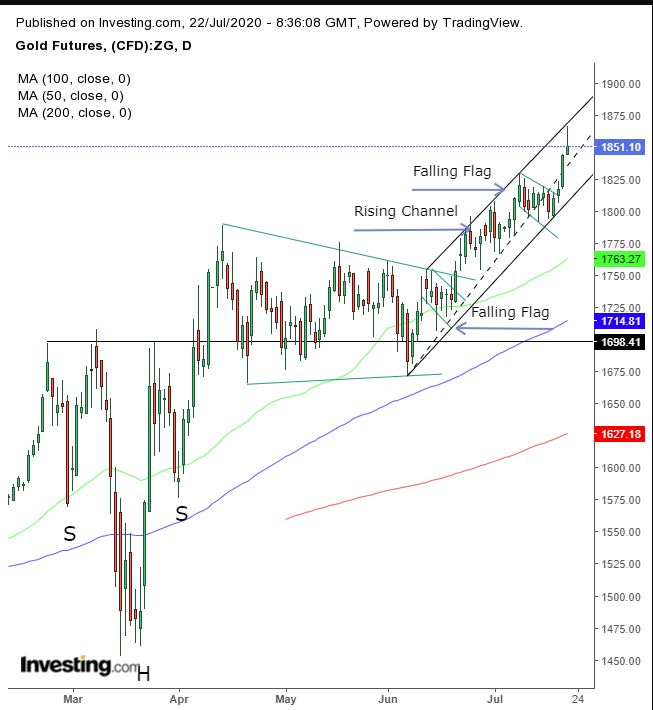 Gold Daily
Still, the yellow metal is trading well off its recent highs. If the price remains at these levels by today's close, it will have produced a shooting star, signaling a potential return-move after the bullish flag, whose development broadened the rising channel, which was too narrow to be sustainable.
Silver jumped to more than a six-year high. Like gold, it also gave up most of its gains. However, the white precious metal's application for industrial use, plus its undervalued status, which is about 125% below all-time highs, makes it a far better investment than gold.
Oil trimmed yesterday's jump.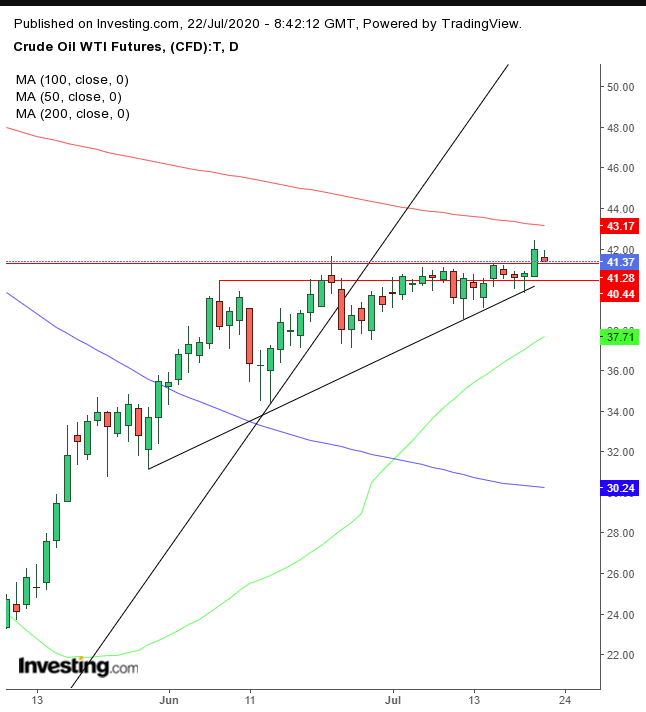 Oil Daily
The move completed an ascending triangle and closed above the potent resistance of the Mar. 9 falling gap that erased a quarter of WTI's value. It took the contract over six weeks to break through it. The 200 DMA is still looming above.
Up Ahead
Market Moves
Stocks
Currencies
The Dollar Index was little changed.
The euro was little changed at $1.1528.
The British pound fell 0.3% to $1.2688.
The onshore yuan weakened 0.3% to 6.998 per dollar.
The Japanese yen weakened 0.1% to 106.87 per dollar.
Bonds
The yield on 10-year Treasuries fell one basis point to 0.59%.
The yield on two-year Treasuries decreased less than one basis point to 0.14%.
Germany's 10-year yield declined one basis point to -0.47%.
Britain's 10-year yield sank one basis point to 0.126%.
Japan's 10-yearyield dipped one basis point to 0.018%.
Commodities
West Texas Intermediate crude declined 0.9% to $41.56 a barrel.
Brent crude decreased 0.7% to $44.01 a barrel.
Gold strengthened 0.7% to $1,855.28 an ounce.