The US tech sector earnings season will shift into high gear in the coming days.
While most attention is directed at mega-cap names like Amazon (NASDAQ:AMZN), Apple (NASDAQ:AAPL), Microsoft (NASDAQ:MSFT), Google (NASDAQ:GOOGL) and Facebook (NASDAQ:FB), investors would be wise to turn their attention to other high-flying companies poised to provide robust long-term growth.
Below we will cover three tech sector stocks set to enjoy explosive earnings and revenue growth thanks to accelerated demand for their innovative products as the COVID-19 pandemic has forced many businesses into remote work.
Each is well worth considering ahead of their quarterly reports in the weeks ahead.
1. Zendesk: Reports July 30 After Markets Close
Customer service software maker Zendesk (NYSE:ZEN) has seen its shares climb around 66% since hitting a recent low in late March, as many organizations expedited their shift to a cloud-based contact center platform in the wake of government-mandated lockdown measures, which forced many to shut down their physical offices.
The stock hit an all-time high of $96.79 on Tuesday, before ending at $94.30, giving the San Francisco-based company a market cap of around $10.8 billion.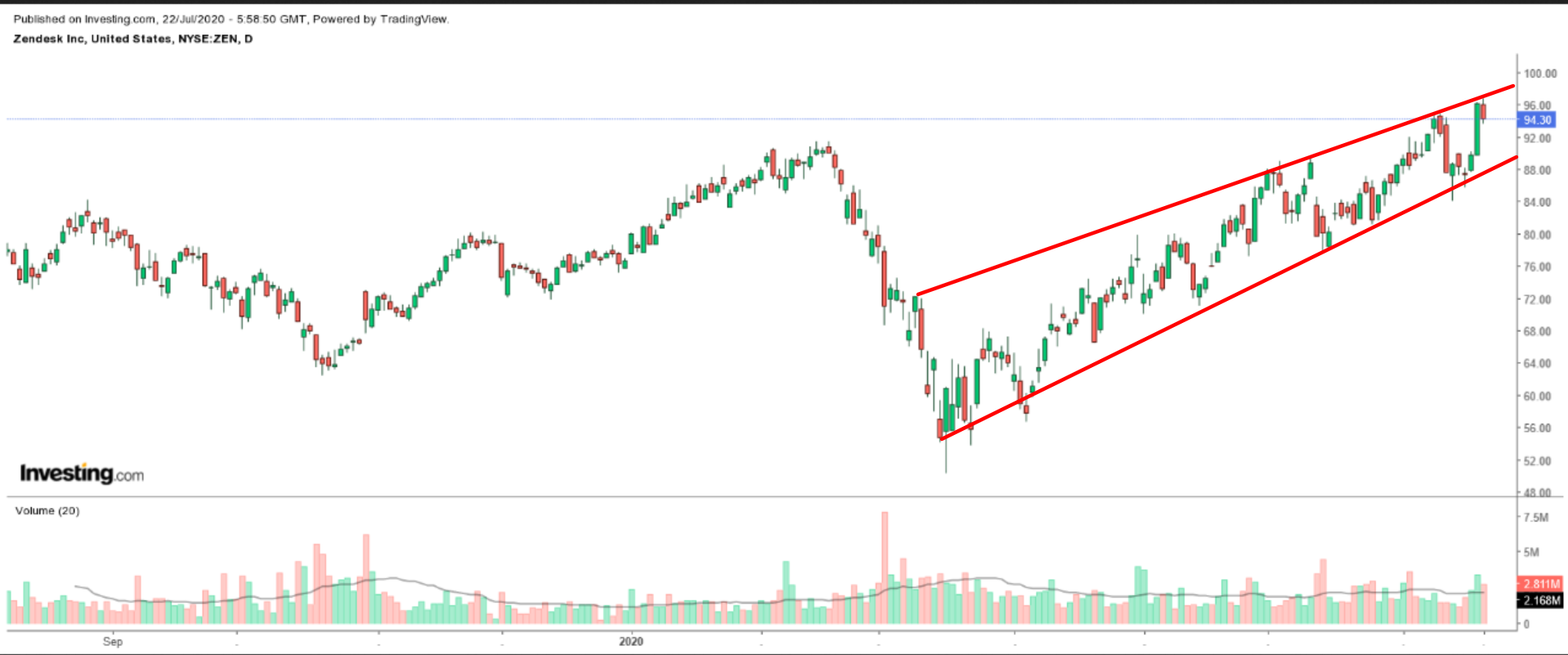 Zendesk Daily Chart
Zendesk's second quarter results, due Thursday, July 30 after the US market closes, are expected to have benefited from booming demand and adoption of its Sunshine Conversations platform, a feature that allows businesses to unify messages from every channel, social media and messaging services, into a single conversation and maximize their communications with customers.
Consensus calls for earnings per share of $0.10 for the second quarter, which would mark a year-on-year increase of 100%. Revenue is forecast to surge 24% from the same period a year earlier to $240.54 million, as businesses sought new communication channels to improve interactions with their customers during the lockdown.
In addition to EPS and revenue, investors will also focus on Zendesk's update regarding its client additions. At the end of the first quarter, paid customer accounts were roughly 160,600, up 10% YoY.
2. Twilio: Reports August 6 After Markets Close
Cloud communications platform specialist Twilio (NYSE:TWLO) has seen its shares soar throughout the coronavirus crisis, rallying an eye-popping 210% since its bear market low in late March. The software-as-a-service company has enjoyed a boost in demand for its cloud-based offerings as more businesses have invested in upgrading their online services during the ongoing pandemic.
The stock closed at $260.51 last night after touching a record high of $264.43 earlier in the session. At current levels, the San Francisco-based company has a valuation of roughly $36.5 billion.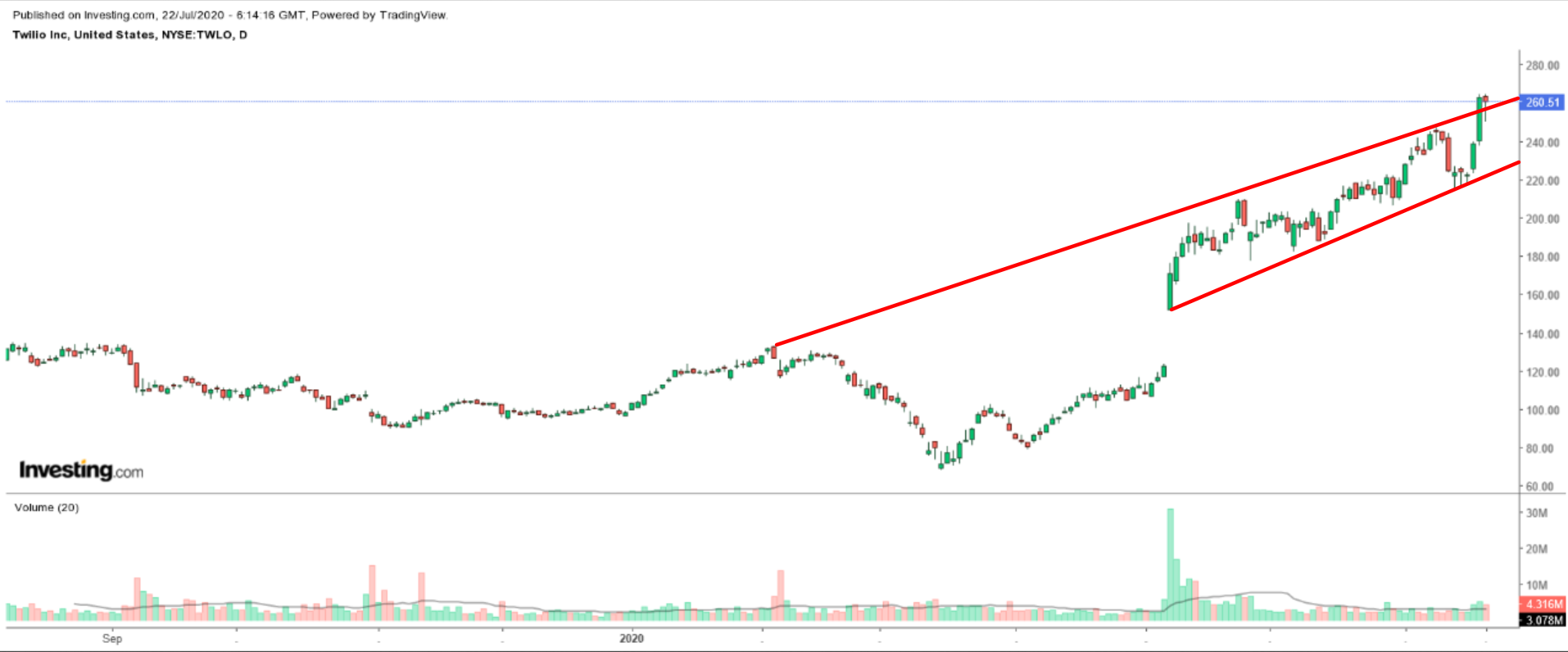 Twilio Daily
Twilio–which exceeded expectations on results and its guidance for its last quarter–next reports financial results after the closing bell on Thursday, August 6.
Consensus calls for a loss of $0.09 per share for the second quarter, compared to earnings of $0.03 per share in the year-ago period, reflecting the software maker's rising costs in its efforts to expand. Revenue, however, is forecast to lift almost 34% from the same period a year earlier to $367.9 million, thanks to an expected increase in the use of its services for distributed contact centers and telehealth.
Beyond the top- and bottom-line figures, investors will keep an eye on Twilio's update regarding its active customer accounts to see if the cloud communications platform provider can maintain its torrid pace of expansion. The company announced on its Q1 earnings report that it had 190,000 customers, 23% more from the year-ago period.
3. Datadog: Reports August 6 After Markets Close
Shares of IT monitoring software company Datadog (NASDAQ:DDOG) have significantly outperformed the broader market in recent months, soaring 172% since its March 23 low, as it benefits from surging demand for its cloud observability solutions across the enterprise segment.
The stock, which reached an all-time high of $98.99 on July 9, closed at $90.72 last night, giving the New York-based company a market cap of about $27.6 billion.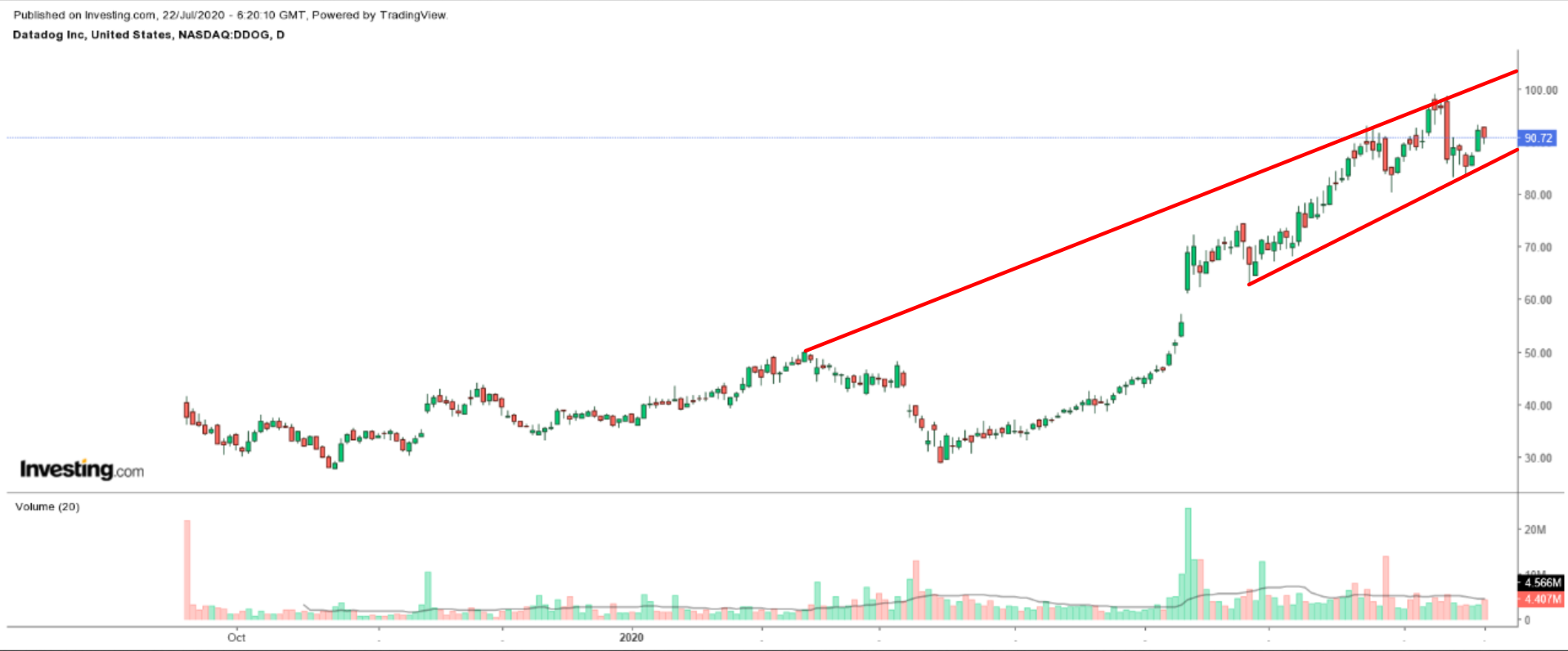 Datadog Daily
The enterprise software maker, whose earnings and revenue easily surpassed projections in the first quarter, is projected to report second quarter results on Thursday, August 6 after the close.
Consensus estimates call for earnings of $0.01 per share, which would indicate a YoY EPS growth rate of 300%. Revenue is expected to soar roughly 165% from the same period a year earlier to $135.4 million, as the impact of COVID-19 sped up enterprise digitization trends and elevated demand for cloud-communications tools.
As such, investors will keep an eye on Datadog's update regarding its total new customer count to see if it can extend its quarterly streak of adding at least 1,000 net new customers to three straight quarters. The company announced on its Q1 earnings report that it had 11,500 total customers, up 40% YoY.
Datadog's total number of customers with annual recurring revenue of $100,000 or more, which jumped 89% to 960 in the previous quarter, will also be in focus.