The coronavirus outbreak in the U.S. is showing no sign of slowing down. On Tuesday, Dr. Anthony Fauci–Director of the National Institute of Allergy and Infectious Diseases–warned Congress that new infections could surpass 100,000 a day given early reopenings and widespread failure to take precautions.
Texas, Florida, Arizona and California have seen their confirmed case numbers surge, prompting local officials to roll back measures to reopen businesses.
Despite the pandemic's ongoing negative impact on the wider economy, the three stocks below are well-positioned to thrive:
1. Amazon.com: E-Commerce, Cloud Strength To Boost Results
Amazon.com (NASDAQ:AMZN) doesn't need an introduction. The online retailer and cloud-computing giant has prospered throughout the coronavirus crisis, rallying 45% over the last three months, outperforming the S&P 500's 22% gain over the same timeframe. Shares, which hit a record high of $2,795 on June 24, settled at $2,758.82 yesterday, giving the company a valuation of $1.37 trillion.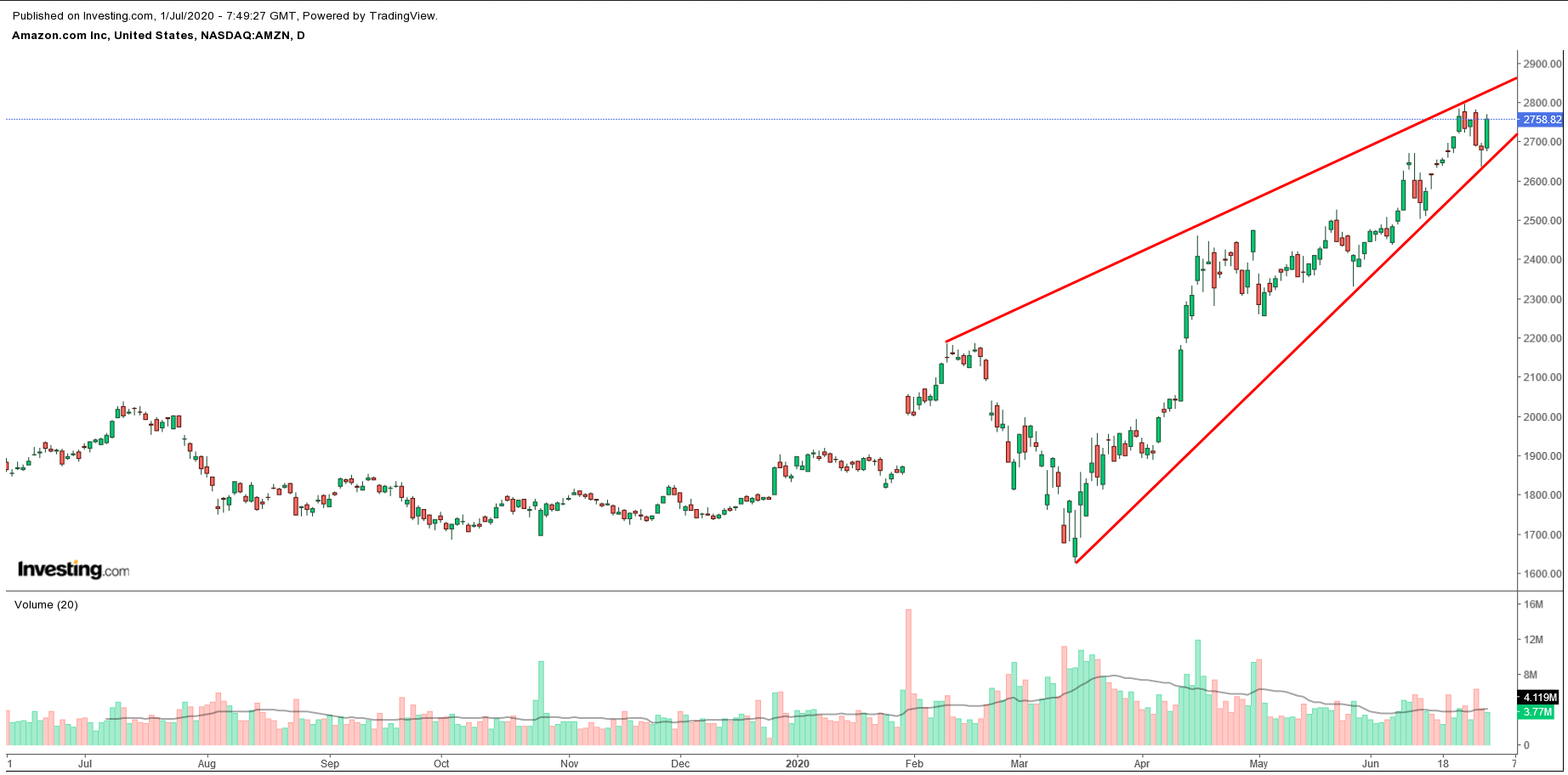 Amazon Daily Chart
The Seattle, Washington-based e-tailer has arguably been the most high-profile winner of the COVID-19 pandemic, benefiting from the shift to online shopping during the crisis.
The global behemoth next reports earnings on July 30. Consensus calls for earnings per share of $1.37 for the second quarter, while revenue is forecast to rise 27% compared to the same period a year earlier, to $80.6 billion, reflecting strength in both e-commerce and cloud computing.
Amazon has been the subject of a flurry of positive analyst reports heading into its results, with Deutsche Bank raising its price target to $3,333 per share, and SunTrust upping its price target to $3,400.
Adding to the positive outlook, Amazon could see further strength in its cloud computing services as it is taking steps to attract lucrative users, including the military and commercial space organizations. This move comes at a time when the company anticipates an "increase in the space-related cloud-computing contracts globally with a market size estimated at hundreds of billions of dollars" according to Teresa Carlson, Amazon Web Service's Vice President to the World Wide Public Sector.
2. Fastly: Rapid-Growth Content Delivery Network
Fastly (NYSE:FSLY), which went public in May 2019, is a rapidly-growing content delivery network cloud provider that counts big names like Shopify (NYSE:SHOP), Spotify (NYSE:SPOT) and Slack (NYSE:WORK) as customers. Its services enable other companies to speed up their websites, apps, and video and streaming offerings.
The San Francisco, California-based company has enjoyed a surge in demand for its cloud-based services as an increasing number of businesses opted to enhance their virtual presence during the current COVID-19 pandemic.
Fastly's stock has significantly outperformed the broader market in recent months, soaring 367% since the end of March. Shares, which reached an all-time high of $88.94 on Monday, closed at $85.13 last night, giving it a market cap of $8.7 billion.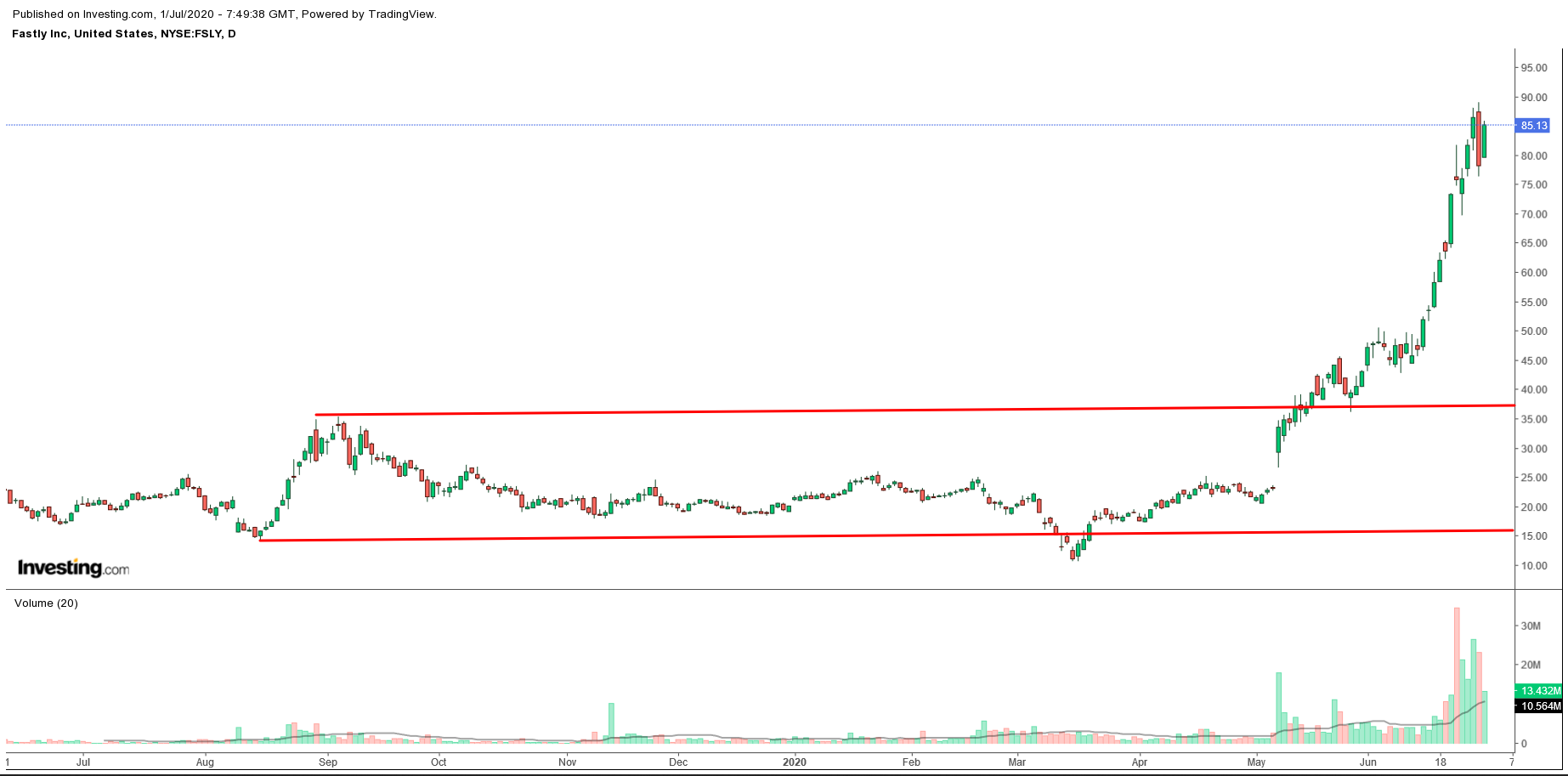 Fastly Daily Chart
The cloud computing services provider reported blowout first-quarter results at the beginning of May, improving its earnings from a loss per share of 30 cents in the year-ago period to a loss of 6 cents per share. Revenue, meanwhile, increased 38% from a year earlier to $63 million.
The second-quarter outlook was also bullish with Fastly forecasting revenue of $70 million to $72 million, implying a year-over-year revenue growth rate of 57%. The company also raised its full-year revenue guidance to a range of between $280 million to $290 million, up from a previous forecast for sales between $255 million and $265 million.
3. Upwork: Leading Remote Work Marketplace
Upwork (NASDAQ:UPWK), a leader in the freelancing and remote work industry, operates a platform connecting businesses around the globe with independent contractors.
Demand for the company's services has skyrocketed in recent months as the record surge in newly unemployed individuals drove Americans and people worldwide to search for freelance work.
Upwork's stock has surged 122% over the last three months, though it is still down almost 10% year-on-year. Shares, which hit a seven-month high of $14.69 on June 26, ended at $14.44 on Tuesday, giving the online talent marketplace company a market cap of around $1.7 billion.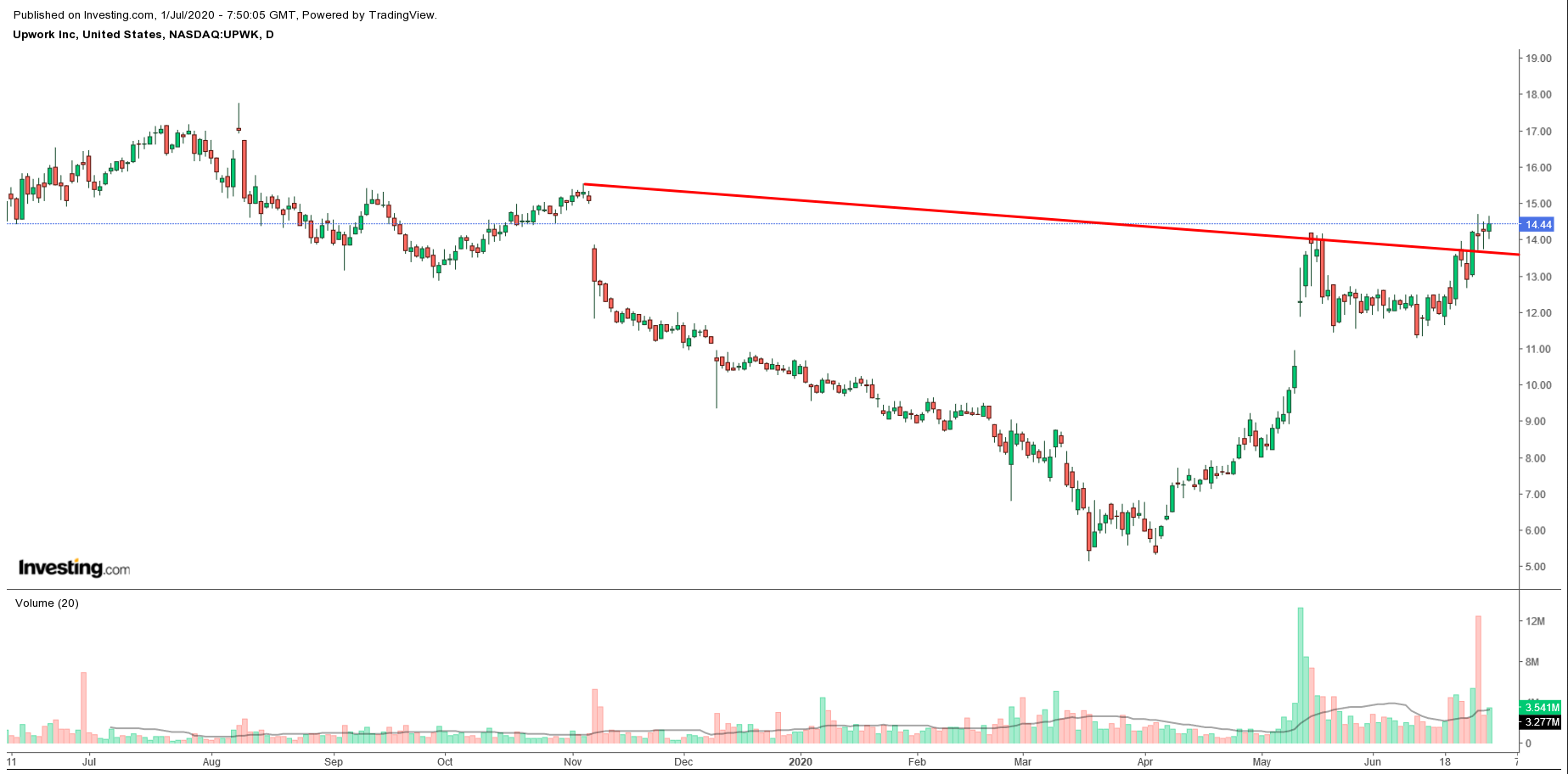 Upwork Daily Chart
The Santa Clara, California-based company performed well in the first quarter as results enjoyed a coronavirus-driven lift, with revenue growing 21.5% from the same quarter a year earlier to $83.2 million. Core marketplace revenue rose by an even greater 24%, while gross services volume–another closely-watched metric–climbed 15% year-over-year reaching $559.5 million.
"With the global spread of the coronavirus significantly accelerating the adoption of remote work and increasing the value that companies place on workforce flexibility, Upwork's solutions for customers are more relevant than ever," CEO Hayden Brown said in the company's Q1 earnings release on May 6.