During this still ongoing equity market sell-off, shares of telecom utilities are faring much better than the high-growth and cyclical players. Among the former group: America's largest telecom operator, AT&T (NYSE:T).
The stock has just declined, losing about 3.5% during the past month versus the 11% drop experienced by the benchmark S&P 500 Index over the same period, which also saw a major re-pricing of risk after the global outbreak of coronavirus.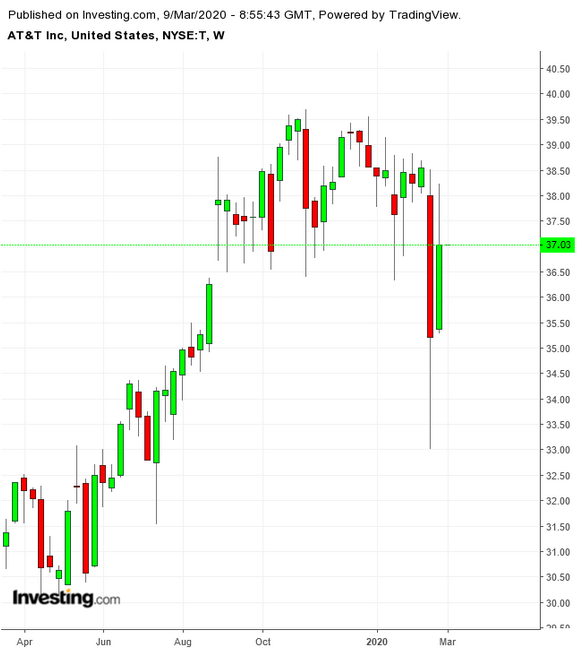 T Weekly
AT&T shares are up 24% in the past year. They fell 0.4% on Friday to close at $37.03.
This strength, which mainly reflects a rush by investors to scoop up dividend stocks at a time of falling interest rates and a growing fear of recession, comes as the company shows some progress on its plan to turn around its business. The overhaul is a result of hedge fund Elliott Management's activist agenda push after acquiring a $3.2-billion stake in AT&T. The hedge fund has pressured the telecommunications and media company to bring about sweeping changes in order to cut its high level of debt.
In a letter to the AT&T board last year, the hedge fund suggested some corrective measures to put the Dallas, TX-based company on a sustainable growth path. They included selling the struggling DirecTV unit and the company's wireless operations in Mexico, empowering the board to hold the CEO Randall Stephenson more accountable, and avoiding any more big M&A.
The proposed changes, which also included a massive cost-cutting exercise, were meant to make AT&T ready for the next generation of wireless networks, known as 5G, and improve its chances of succeeding in the streaming TV market.
The latest steps taken by AT&T show that the Elliott prodding is working. The company recently agreed to name two new board members while reviewing many of the assets it holds in its portfolio. AT&T said it reduced its net debt by $7.6 billion in the fourth quarter and more than $20 billion in 2019. The company reiterated its financial targets for 2020, which include 1% or 2% revenue growth with about $28 billion in free cash flow.
As part of its three year financial plan, AT&T said it will book annual revenue growth between 1% and 2%, hike its dividend as a percentage of cash flow, and pay off debt to reach a leverage ratio between 2 and 2.25 in 2022. AT&T is also working on asset sales. The company agreed last year to sell its operations in Puerto Rico and the U.S. Virgin Islands to Liberty Latin America Ltd. for $1.95 billion in cash.
To support its share price, AT&T spent $2 billion in Q4 to buy back 51 million of its own shares and allocated another $4 billion to repurchase shares starting in January. Executives have said the company will continue to boost its share price by reducing the amount of common stock available to the public.
This recent pressure from an activist investor, along with the rapidly changing dynamics of the telecom industry make AT&T a turnaround bet that could produce good returns for investors who have the stomach for a bumpy ride. AT&T stock is one the top 20 most widely held U.S.-traded companies among institutional investors, according to Bloomberg data — mainly because the company has paid a growing stream of income for 35 consecutive years.
Bottom Line
The rebound in AT&T's stock in the past 12 months is the result of a combination of factors, including high demand for dividend stocks, some improvement in its cash position, and the involvement of an activist investor who has a reputation for pushing change in troubled firms in order to shore up the value of the shares. This turnaround plan combined with AT&T's highly attractive 5.59% dividend yield, for an annual payout of $2.08, make the stock an attractive defensive bet in this market turmoil, when bond yields are plunging and the space for making decent returns is shrinking.